Broadway Thru a Keyhole (1933) Constance Cummings, Russ Columbo, Paul Kelly, Texas Guinan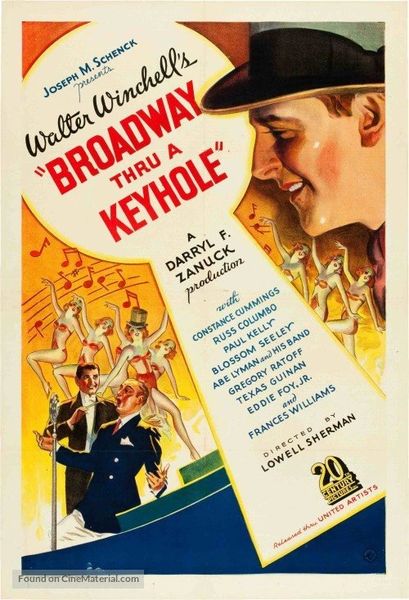 Broadway Thru a Keyhole (1933) Constance Cummings, Russ Columbo, Paul Kelly, Texas Guinan
A 1933 pre-code musical starring Constance Cummings, Russ Columbo, Paul Kelly, Blossom Seeley and Texas Guinan.  Racketeer Frank Rocci is smitten with Joan Whelan, a dancer at Texas Guinan's famous Broadway night spot. He uses his influence to help her get a starring role in the show, hoping that it will also get Joan to fall in love with him. After scoring a hit, Joan accepts Frank's marriage proposal, more out of gratitude than love. The situation gets even stickier when she falls for a handsome band leader during a trip to Florida. Can she tell Frank she's in love with someone else?

Director:  Lowell Sherman
All DVDs are made on demand and are not commercially available.  Artwork on DVD label only;  DVDs are in slimcase without artwork.

Trivia:  Based on the courtship of Ruby Keeler and Al Jolson.  Ruby Keeler , who was a dancer at Texas Guinan's nightclub, was dating a gangster when she met Al Jolson.