Scandal Sheet (1952) Broderick Crawford, Donna Reed, John Derek, Henry Morgan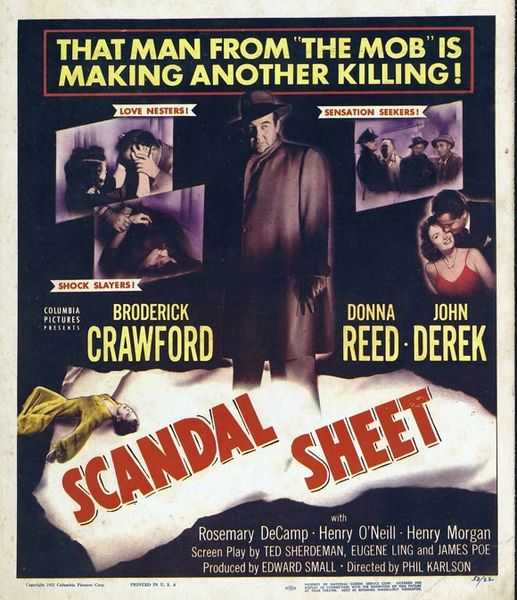 Scandal Sheet (1952) Broderick Crawford, Donna Reed, John Derek, Henry Morgan
Scandal Sheet is a 1952 black-and-white film noir starring Broderick Crawford, Donna Reed and John Derek.
The editor of a New York exploitation newspaper meets the wife he had abandoned years ago, while using another name, at a Lonely Hearts ball sponsored by his newspaper. She threatens to expose him as a wife-deserter, wife-beater and an impostor and, in anger, he pushes her and kills her. Later, when her body is found, he assigns his protégé reporter to the story, as a good, exploitable follow-up story to the ball. And, then, he is forced to sit back and watch while the reporter slowly tracks down the killer.

Director:  Phil Karlson

All DVDs are made on demand and are not commercially available.  Artwork on DVD label only;  DVDs are in slimcase without artwork.